New Balkan Beat Box album "Nu Med" out on
JDUB Records.
"BBB's new record, Nu Med is a musical vision of what the Mediterranean would sound like if borders were removed, as BBB makes connections that politics often keep separate. Jewish, Gypsy, Arabic, and American are united by hip hop beats and dancehall toasts. BBB's musical hitch-hiking continues as they mix things up with dub and electronics, juxtaposed with ancient Moroccan and Mediterranean melodies. The band?s uncategorizable sound gives equal weight to soulful acoustic timbres and digital rhythms creating a uniquely organic sound with electronic elements. With their fusion of Middle Eastern melodies and Balkan brass-band stomp with hip-hop, reggae, and electro beats, this internationally acclaimed collective is out to prove that the entire world is, indeed, their stage, and that we are all Gypsies."
Balkan Beat Box is one of my favorites and I'm counting the days until "Nu Med" shows up for download on
eMusic.
New Crakow Klezmer Band album "Rememberance" out on
Tzadik Radical Jewish Culture.
"The last release by this spectacular ensemble. Formed in 1997, the Cracow Klezmer Band has been a phenomena. Through their spectacular combination of impeccable musicianship, imaginative arrangements and passionate performances they have developed into one of the most successful groups in Radical Jewish Culture. This exciting live CD marks their dissolution after ten years and captures them performing an exciting program of colorful new music and a few of their compositional classics in their home of Warsaw, Poland."
New Transkapela (klezmer – carpathian music) album "Over The Village" available through
the Transkapela website.
"The OVER THE VILLAGE record is the continuation of the musical imagination about the times of Klezmers from the Carpathians. Musicians of TRANSKAPELA, once again reaches to the roots of the Carpathian music, searches once more for the trace of the village klezmers and musicians splendour, who separately and together played on village weddings, religious holidays and festivities.

This time, it is a sort of metaphysical story about the Carpathian village. Village, like in the old days, inhabited by Bukovina highlanders, Hutsuls, Jews, Gypsies, Polish, Romanians, Hungarians and many more from the abundace of the Transcarpathian cultures.
New Rita Glassman album "Journey to Shabbat" available through
CD Baby.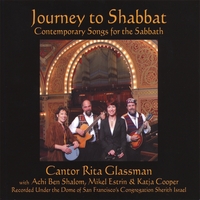 "Rita Glassman is the Cantor of one of the most historical synagogues in the Northwest. She is also a singer/songwriter with four CD recordings. Her "Shema" on the "Sacred World Chants" CD-with Deeva Primal and others has become well known in the World/New Age/Spiritual music audience. Listen to Rita Glassman and the music of "Journey to Shabbat" takes one on a journey to the heart that will want to be repeated again and again. This is the music of the mystics, songs and prayers that transcend time and space. These are contemporary songs for meditation, celebration, inspiration and renewal. An album introducing the joy and peaceful harmony that comes with the Sabbath. A sacred and soulful experience connecting us all to the One who is love and is beyond all."
Zvee Scooler: "Der Grammeister" available through
Living Traditions
"From the 1930s until his death in 1985, Zvee Scooler (aka "Der Grammeister") thrilled tens of thousands of WEVD radio listeners with his pithy, exciting and timely verse. Here, reissued for the first time, are six of Scooler's most memorable performances — plus a Bonus Track — which best exemplify the Golden Age of Yiddish radio."
More info on Zvee Scooler can be found at http://www.livingtraditions.org/docs/scoolercd.htm
Y-Love and Yuri Lane: 7 Songs for Sefira" available through
Modular Moods
"Y-Love and Yuri Lane. Count it. 7 songs for Sefira. Rhymes and Beat Box. All Accapella!! Y-Love (Yitz Jordan) is an MC unlike any other; he converted to Orthodox Judaism in 2000, and later took on the traditions of Hasidism (the mystical branch of Orthodox Judaism). He is among the most innovative freestylers on the scene, weaving seamless polyglot rhymes in English, Arabic, Yiddish, and Hebrew. Most unique is Y-Love's revival of Aramaic, the language used to discuss Jewish Law and Kabbalah. With each word he spits in the tongue of ancient Babylon, Y-Love breathes new life into hip-hop, one beat at a time."
Listen to tracks from the album at their
myspace page
.