I'm doubly delinquent. I've got a kids Jewish music CD, Craig Taubman's
"My Newish Jewish Discovery"
I've been meaning to write about for almost a year now. And, on top of it, a music source,
the PJ Library
, that's definitely worth sharing.
The source first. The PJ Library is an offering of the
Harold Grispoon Foundation
, "a leader in creating and supporting innovative opportunities for Jewish engagement across North America." It's an outreach program that provides free high quality Jewish books and music to kids in
specific regions of the United States
. My part of the North Coast (aka Michigan) is covered and we've been getting the books for two years now. The books are a mixed lot. Some we've loved, some we've never read again, and some we've just said, huh? But my kids are hooked. They're voracious readers (should that be 'read-to-ers') and love getting a Jewish book in the mail every month. We've a whole shelf of them now and a couple have become favorites. The books all come with educational pamphlets which, honestly, we lost almost immediately. I'm sure we would have benefited from them. Oh well. Anyway, if you have kids or know some, you should
check the library out
.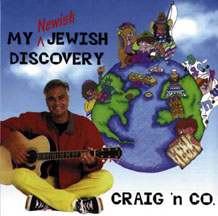 Honestly, while the PJ Library says it distributes books and music, it's mostly books. I think we've gotten one disc a year. My kids didn't think much of the first one, a disc from
Canadian Jewish kids musicians Judy and David
. The second one, Craig Taubman's my "Newish Jewish Discovery," has mostly been in heavy rotation. I say mostly because my elder wiggler knows exactly the two songs she doesn't like and always yells "Skip Skip" from the backseat when they're queued up. Personally, I also don't like two tracks, but, of course, they're not the same two. It's her disc, so I let her win. I'm a good papa.
Here's the official blurb...
"We made this recording to celebrate the joy of Jewish music, culture and
community values with you. My Newish Jewish Discovery will teach you, stretch
your imagination and fill your heart with song. We hope that when you listen,
you will think about the words you hear, act on the ideas you have and begin to
make a difference in the community around you. We could not package the My
Newish Jewish Discovery Children's Museum, but we wanted you to have a piece of
us for your own discovery."
Lots of well written, up-tempo, clappy clappy, rock and rolly feel good music aimed at the elementary school set. My personal favorites are the Yiddish accented
"Fixing Up The World"
and the Captain Kangaroo does Mickey Katz sounding
"My Mother Called Me a Name.
" My kids love the goofy jam rock Hebrew lesson
"Shigaon"
and the tongue twisting
"Four Corners."
Hey. It mentions Michigan, and let me tell you, nothing Jewish ever mentions Michigan. Click on the song links to hear samples and then check out
the disc's CD Baby page
for the rest of the samples.