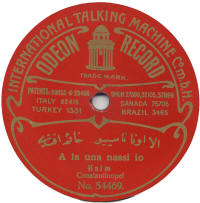 If there ever was a labor of love in Jewish music, this is it. Joel Bresler's much anticipated website
Sephardic Music: A Century of Recordings
went live this week. As Bresler explains
"This website showcases over 100 years of recorded Sephardic music, from the 78 rpm era to the present. It first explores in detail the earliest Sephardic recordings, the artists that made them, and their repertory and performance practices. These early recordings tell a rich story of Sephardic musical life in the first half of the 20th century. The site next covers the second half-century of recorded Sephardic music, touching on the amazing outpouring of Sephardic recordings and the diverse performing styles used in these recordings. "

While the level of detail in the site already is amazing, where it's going is incredible. It already includes detailed information on performers, recordings, and music labels as well as a wealth of reference recordings and general information on Sephardic Jewry. In the future Bresler will be adding detailed analysis and histories of specific songs. He gives us a taste of this with an analysis of the song
A La Una
that includes information on over 125 recordings of the song, including over a dozen provided for online listening.
A la Una Naci Yo, recorded by Lazare Angel in 1948
A la Una Naci Yo, recorded by Sarah Gorby in late 1960's
A la Una Naci Yo, recorded by Adama in 1980
Go check out the
SephardicMusic.Org
, it will be well worth your time.