I ran out of steam last night, but hey, that was a lot of albums. The Jewish music scene's hopping.
New Paul Brody album "For the Moment" out on Tzadik - Radical Jewish Culture.
" Paul Brody is a talented composer/performer based in Berlin. Touring Europe for several years to enthusiastic audiences, his band Sadawi has developed into a razor sharp ensemble, one of the very best to mix jazz with traditional Jewish music. His third CD for Tzadik is his best yet and features special guests Michael Alpert and John Zorn on selected tracks. Ten sparkling original compositions featuring dynamic solos, catchy melodies and driving rhythms by a fresh voice in New Jewish Music."
New Irving Fields Trio album 'My Yiddishe Mama's Favorites' out on
Tzadik - Radical Jewish Culture.
" The pioneer of Latin-Jewish fusion Irving Fields turns 92 this year and he is playing better than ever. Reworking Jewish classics into the Latin mold with the aid of Tzadik regulars Greg Cohen and Roberto Rodriguez, Irving has created a beautiful program of mambos, rumbas and solo pieces that will delight young and old. With an incredible depth of feeling and the touch and phrasing of an absolute master, My Yiddishe Mama shows us all where Radical Jewish Culture comes from and where it is going in one bold gesture. An absolute classic."
The Jewish Music Heritage Project releases 'The Musical Tradition of the Eastern European Synagogue'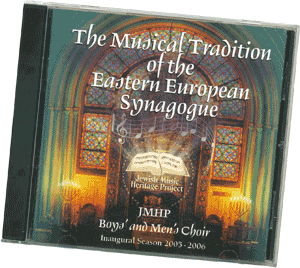 "This CD is part of an unprecedented historic effort to comprehensively document and record for posterity the great treasury of Eastern European synagogue music. It is one step in the long, arduous task of rescuing our once-glorious and centuries-old vast treasury of sacred music from otherwise near certain oblivion. Future plans include producing an estimated 75 CDs, which contain all of the music from the five-volume anthology. It is expected that there will be five sets of CDs, one set of companion recordings for each volume."
There are new albums coming out in the Othodox and Chassidic music scene all the time. Next time around I'll have a better listing of those albums.