New Socalled album "Ghettoblaster" out on JDUB Records.
"The Montreal Renasissance man, SoCalled is back with the follow up to his 2005 SoCalled Seder. Ghettoblaster spans multiple genres, from rock to funk, Jewish and Jazz, all the while returning to and grounded by SoCalled's collage-like hip hop beats. This brilliant, eclectic album features a vast palette of musical influences, with guest appearances by underground MC C-Rayz Walz, James Brown's trombonist Fred Wesley, David Krakauer, hot shot producer Gonzales and many
more. "
I picked this one up already. It's a blast, though it didn't grab me as much as The Socalled Seder. Still a worthy album.

New Sara Aroeste Band album "Puertas" available at CD Baby.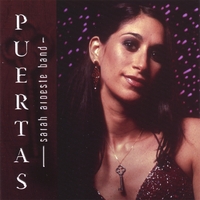 "With Ancestral roots in Spain and Greece, American-born Sarah Aroeste has worked to reinvent Ladino and Sephardic music. The Sarah Aroeste Band is known for its style of mixing traditional Ladino songs with rock, funk, jazz and blues. Combining Sephardic folksongs from around the Mediterranean with contemporary sounds, their second album, Puertas, presents an updated take on traditional Ladino songs. With 10 tracks on Puertas ranging in sounds from funky pop beats, to flamenco-style strumming, hard electric rock riffs and driven Middle Eastern rhythms, "Puertas" is truly a unique blend of what is traditional and new in Sephardic music. "


"Ethnic eclecticism from a sultry warbler of Greek ancestry...(Shakira eat your heart out!)" -Village Voice


"Sarah Aroeste isn't just out to entertain, she wants to redefine "Jewish music." -The Forward
I haven't heard this one yet but I really enjoy her first album, A La Luna.
New Pharoh's Dauther album "Haran" available at
Oyhoo.
"Turkish hash bars meet Hasidic Brooklyn juke joints with '70's era psych rock well in tow. That is the perfect description of what's in store for a listener of the magical journey subtly titled "Haran". Raised among a religious upbringing, the bandleader and vocalist Basya Schechter evokes images of rebellion with her love of Zeppelin, Pink Floyd, and the Rolling Stones. But its those rock heroes who've graciously lent their wisdom to her willing ears and lead her to help fashion one of the most beautiful and awe-inspiring worldbeat albums of the year. - J-Sin"
I haven't heard this one yet but I really enjoy two of their previous albums "Daddy's Pockets" and "Out of the Reeds".
Reboot Stereophonic to re-release Fred Katz 'Folk Songs for Far Out Folks' on July 10.
"Much like Gershon Kingsley, Fred Katz has had one of the more extraordinary, if offbeat, careers in contemporary music. A vet of Army bands and Hollywood orchestras, plus sessions with Lena Horne and Carmen McRae, Katz made his biggest mark by bringing the cello to the forefront of the jazz repertoire. He did this best as a member of the Chico Hamilton Quintet, the ever-experimental ensemble that dropped Zen, a Pacific jazz gem of Katz compositions. Of course, he also did all the arranging for Harpo Marx's Harpo in Hi-Fi LP, Ken Nordine's classic Word Jazz project, the original score to Little Shop of Horrors, and the ever-popular Sidney Poitier Reads Plato record. He did an A&R stint at Decca before settling into a longtime academic gig as a must-take music professor. The most admired (if under-discussed) Katz album is probably this one, which is dedicated to the idea that all jazz is born from "the roots of people." The roots explored here are folk songs--American, Hebrew, and African. "Baal Shem Tov" and "Rav's Nigun" feature guest appearances by Paul Horn on sax and legendary LA jazzman Buddy Collette on flute. The tracks, from 1959, sound prophetic--an avant tackle of jazz and Jewish tradition. "
Gail Javitt releases "Like a Braided Candle: Songs for Havdalah" available at
CD Baby.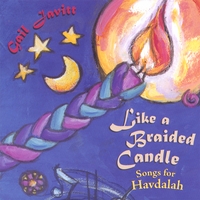 "A unique collection of songs from the Jewish ceremony of Havdalah, which takes place at the end of the Sabbath. Spans the centuries and the globe with songs both traditional and contemporary, in Hebrew, English, Yiddish, and Ladino."
You can find out more about Gail Javitt and "Like a Braided Candle" at her
web site
and in this
Washington Jewish Week article.
Voices for Israel releases "Keeping the Faith"
"VOICES FOR ISRAEL: KEEPING THE FAITH unites over 100 women from four continents, joining their voices for Israel. This ambitious double album and video brings together Jewish women of all backgrounds, from all over the world, to support Israel.

As with Voices For Israel's tremendously successful debut album, "Chazak Amenu: We Stand As One," the objective of KEEPING THE FAITH is to express support for, and solidarity with, the people of Israel during these trying times, and to promote a global sense of Jewish unity and community.

VOICES FOR ISRAEL: KEEPING THE FAITH is a historic 2-CD compilation of 40 songs, in English and Hebrew, relating to Israel, Jewish unity and the enduring hope for peace. The CD set also includes an uplifting music video – put the CD in your computer and watch! – in addition to an informative 20-page booklet packed with full color photos of Israel. Profits benefit survivors of terrorism and war in Israel."
The Afro-Semitic Experience releases "Plea for Peace"
"After months and months of talking about it, it is finally here. We have just come out with a new recording, Plea for Peace and it is our strongest effort yet and really a group effort. On this album we ofer a program of pieces that encompass a wide range of sounds and styles--there are original compositions along with our distinctive arrangements of synagogue songs, gospel songs, hymns, West African, Cuban and Puerto Rican drum beats, jazz songs and cantorial music. We are a band that is proud of our religious and political message. Plea for Peace is a politically charged and spiritually centered cry for peace, world wide spiritual unity and communication."
Mare Winningham releases 'Refuge Rock Sublime' on Craig and Co.
"Academy Award nominee and two-time Emmy winner Mare Winningham blazes a trail into the world of Jewish country bluegrass music on 'Refugue Rock Sublime', her first major CD release. Mare delivers a unique take on traditional Jewish themes in a voice with the smoothness of Alison Kraus and the edge of Aimee Mann, and a backup band that sounds like it could have come straight out of 'O Brother Where Art Thou?'.

I really like this album. Check out my review.

Blue Frige releases 'Whole World Lit Up' on Craig and Co.
"With record-breaking CD sales and scores of sold-out performances, Blue Fringe is fast establishing itself as America's favorite Jewish rock band. Arranged, written, and recorded over the course of several months, 'The Whole World Lit Up', Blue Fringe's highly acclaimed third album, features a ten song collection of innovative approaches to traditional Jewish tune. Weaving familiar melodies with original lyrics about anti-Semitism, the ongoing war in Israel, and the Jewish response of prayer to 9/11, the album infuses new perspective into ancient liturgy and promises to be theirmost successful release yet.

I like this album, though if found it a bit flat in spots. Check out my review.

Konsonans Retro release 'A Pdoloian Affair' available at CD Babya>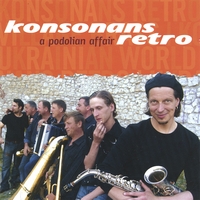 "Konsonans Retro are a pretty old wedding brass band from Odessa region, Ukraine, and possibly the coolest and freshest new world music act to come out of Eastern Europe. For generations - and through countless hot nights - the Baranovsky family and their in-laws have been passionately playing the wild and sweet wedding music of Podolia, a powerful and soul-stirring blend of Moldavian, Ukrainian and unique Jewish tunes. And they sing - everywhere they are. That you have to hear for yourself…

Somewhere in 2005, the band met Berlin-based master clarinetist Christian Dawid (some think it was in Vienna). Soon plans were made – since then, the new Konsonans Retro have been performing for thousands of listeners at the Krakow Festival of Jewish Culture, at Vienna's excellent Klezmore festival and have been touring through Germany, Switzerland and Ukraine.

Konsonans Retro have received enthusiastic response from audiences and fellow musicians alike. Illustrous artists like Steve Bernstein (Sex Mob), SoCalled, Lorin Sklamberg (The Klezmatics) or DJ Gurzhy (Russendisko) are raving about the band. Cosmopolitan cult singer Alec Kopyt (Poza, Amsterdam Klezmer Band) even called them 'the best klezmer band in the world'. Not necessarily thinking of themselves as a klezmer band, they certainly party on every stage they play. Davai!"

Beth Schafer soon to release 'A Build That Bridge'
"Songs that inspire hope, that rock with an undeniable spirit and that speak to listeners of ANY faith. Special guest, Larry Hoppen, wrote and recorded the title track with Beth. A MUST HAVE for listeners seeking positive music who want to be HAPPY!"

Beth is the winner of the American Idol Underground competition. She sent me an advance copy of the album and I'll be reviewing it soon.
Aviva released 'Songs for Carmen'
"Songs For Carmen is inspired by George Bizet's internationally acclaimed opera, Carmen. Many scholars believe the tale of this famous Gypsy was derived from the legend of the Petenera, a Jewish temptress who, because of her seductive power, was reported to be the "damnation of men." These and other folklore have their origins in southern Spain at a time when the cultural and artistic alliances of Jewish and Muslim communities flourished. The language on this album is Ladino — an ancient form of Spanish spoken by the Jews of the region and nearly decimated after the expulsion of the Jews and Muslims in 1492. No Jews or Muslims were harmed in the making of this album."

'Out of Babylon' released on Celestial Harmonies
"Babylon became the spiritual centre of Judaism and was to remain so for over a thousand years. This legacy of Babylonian Jews was so profound that their descendants many of who migrated elsewhere yearned for Jerusalem in their prayers but considered Bagdhdad their home and that is where their culture took shape. There are fewer then 20 Jews left in Babylon ( Iraq) today. The songs in this compilation were chosen from field recordings collected separately by Professor Marageret Kartomi and Dr Sara Manasshe. This CD compilation is one of the outcomes of six years of research investigating a rare case of musical heritage maintained over two chains of migrations over the past 200 years or so, and focused on situations of culture contact in a series of Diasporas across a continent to Asia in the colonial era and eventually across several continents to Asia, Australia and North America The songs were recorded in a variety of acoustic environments, as dictated by field opportunities."