It's about 6am North Coast time, and once I'm done writing this post I'll be heading upstairs to wake up my gang. Today's my elder girl's first day of Kindergarten. We're all so wound up about it that I'm amazed that any of us got any sleep last night. This will probably be the one day all year that I can get her out of bed without a fuss.
So, it was with thoughts of schooling and starting new projects that I hit the internet last night looking to build up my Jewish Music reading list. While bumping around I found two great resources. The first resource is the
Jewish Music Web Center's Booklist
. While it doesn't try to be exhaustive, it has a great list of books that cover a wide range of Jewish music topics ranging from
'The Music of Israel: From the Biblical Era to Modern Times
'
to
'Rock 'n Roll Jews'
to '
Ernest Bloch, Voice in the Wilderness: A Biographical Study'
Some look pretty academic and some pretty popular press (sadly, I'm scientist by training and get more excited by the academic texts. sheesh.) The Booklist is just that, it doesn't link to sources for the books, but many can be found through your favorite local and online new and used booksellers. Prompted by the list, and after reading
a great discussion on Velvateen Rabbi
, I picked up a remaindered copy of Jeffery Summit's "The Lords Song in a Strange Land" for under $5 from
Half.Com
. I also nabbed Nahma Sandrow's "Vagabond Stars" (about Yiddish Theater) and Jeffery Melnik's "A Right to Sing the Blues".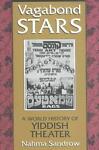 The second resource I found is the website for
Broder's Rare and Used Books
in Waterbury Connecticut. I've said before that I was an English major in college. Small, antiquarian booksellers are about my favorite people in the world. No one, just no one, loves books more than these folks. No can ferret out stranger or more wonderful texts than these folks. And Broder's list has over 100 Jewish music books including from
"10 CANCIONES PARA PIANO CANTO, VIOLIN Y JALIL -10 LIDER FAR PANO, GEZANG, FIDL UN KHALIL - YIDDISH AND SPANISH. Wajner, Leon. New, Estudios d.e.m.o.s., 1959"
, both volumes of Velvel Pasternak's
"SONGS OF THE CHASSIDIM"
and
"MUSIC IN ANCIENT ISRAEL/PALESTINE: ARCHAEOLOGICAL, WRITTEN, AND COMPARATIVE SOURCES. Braun, Joachim, Douglas, Stott W."
And the prices are very reasonable. I picked up a copy of
"MODERN JEWS AND THEIR MUSICAL AGENDAS. VOL. IX OF STUDIES IN CONTEMPORARY JEWRY. Mendelsohn, Ezra (editor) Collection of essays dealing with the music and Jews and the role of music in Jewish assimilation into modern European society, Israeli identity, a separate Sephardic identity, to further Zionism and other essays"
for under $20.
This should keep me in happy reading land for a while.