Leonid Levin releases "Violin Favorites" available through CDBaby.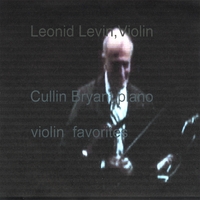 "Virtuoso classical violin showcasing classical masterpieces. Romantic violin with soul added to each note. It features "Nigun"
by Ernest Bloch (Movement from Baal Shem Tov suite)"
The Leonid (Leib) Levin Jazz Quartet releases "From Nigun To Klezmer" available through
PayPlay.fm.
"Award-winning Violinist Leib Levin accompanied by outstanding Jazz Trio (Garry Gregory-piano, Martin Confurius-bass, Nodar Rode-drumms) and by renowned pianist Yaron Gershovskiy (track3&7) in presentation of Jewish Folk, Pop, Classical and Religious Melodies"

Vira Lozinsky releases "Distant Stars - Vayte Shtern" available through CDBaby
.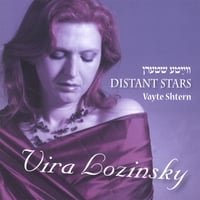 "Vira Lozinsky is a leading voice among a new generation of singers cultivating Yiddish culture in Israel...An enchanting performer in every way, Vira's mellifluous alto voice is powerful, warm, expressive, and pure. Her unique repertoire includes new material written especially for her, as well as Yiddish folk songs, songs of Bessarabian, Romanian and Polish Jewish poets, and of classical and modern Yiddish poets like I.Manger, Z.Berdichever, M. Gebirtig, A.Greenblat, M.Felsenbaum"
Temple releases "Coming Home" available through Sounds True.
"Love resonates from each note of the long-awaited musical collaboration of American singer Danya Uriel and Israeli guitarist Eyal Rivlin, the duo known as Temple. The alchemical fusion of Uriel's angelic soprano and Rivlin's hypnotic instrumentation results in Coming Home, a collection of original Hebrew chants that honor the sacred and foster inner healing and inspiration."
Sounds True sent me a review copy back in July when
I posted about Temple
. I'll admit that Coming Home is a bit dreamy a recording for me. I'm not often in the mood for letting go of myself in the way this album demands. But when I am, Coming Home is pretty spot on. Here's a strange analogy. I hate the taste of Gatorade. Except when I'm really, really hot and thirsty. And then it is the most delicious thing in the world. Something like that.
Hip Hop Hoodios releases "VIVA LA GUANTANAMERA" available through iTunes and eMusic.
"Hip Hop Hoodios ("hoodio" is a twist on the word "judio" – Spanish for "Jew") is an allstar Latino-Jewish urban music collective led by Josué Noriega and Abraham Veléz that includes participation from members of such notable Latin & Jewish acts as Santana, Jaguares, The Klezmatics, Orixa, Los Mocosos, Midnight Minyan, and Los Abandoned. The Jewish answer to El Gran Silencio? The Latino respuesta to the Beastie Boys? Put the categorizations aside – Hip Hop Hoodios are out to change the notions and preconceptions of Latin and Jewish music. From Latin funk to klezmer to cumbia to straight-up hip-hop, Los Hoodios are cross-cultural mayhem at its best."
This second full length album for the "Latino-Jewish Urban Music Collective." And while it's only available for download, it's already getting a lot of attention. It's title track was anointed 'track of the day' by the taste-makers at KCRW in LA and it debuted 18 on the iTunes top Latino album charts in early August. Great stuff.
See my earlier post for more
.
The Hesh Inc. releases "Soul In Exile II" available through CDBaby
"Soul In Exile 2: Jersey Shore Baby is a lyrically-intense, semi-autobiographical, musical travelogue, telling its story by using local and regional references as metaphors for universal experiences including love, loss, isolation, redemption, and finding one's place in the world. In November 1978, an awkward, geeky, and gangly Orthodox Jewish kid from Long Beach, NY named Heshy Rosenwasser dropped a quarter into a lucky charm imprinting machine at Lee's Arcade in Convention Hall on the Asbury Park boardwalk. Fueled by the onset of adolescent hormones and a nascent love of rock'n'roll music, spurred by a flash of inspiration from a "cool" character then in the American pop-culture consciousness, eight quick strokes of the lever brought on Heshy's ugly-duckling reinvention as The Hesh, and from that point on life was never the same. The meaning of life, as expounded by rabbis and historical religious figures, became compounded by the sound of the beach poets and boardwalk prophets of Jersey Shore rock'n'roll, which astounded and confounded his parents and peers to no end."
Tenor Saxophonist Seth Kibel releases "The Great Pretender" available through iTunes and Amazon.
"In his first solo album, The Great Pretender, tenor saxophonist Seth Kibel brings his raucous, blues-drenched sound to 10 songs with support from some of the most skilled artists in the Mid-Atlantic and beyond. The album's blues and roots rock sounds represent a new approach for the versatile performer and composer, known for his jazz and klezmer music and his leadership of the award-winning "alternative klezmer" band The Alexandria Kleztet."
Lawrence Dermer releases "Third House Rising".
"Third House Rising is a Musical Jewish Journey – a collection of music and lyrics that push the boundaries of both music and Jewish in a way that expands the mind, soothes the heart and lifts the soul. The compositions reflect Lawrence's strong Jewish heritage and embrace his contemporary musical genius. Robin's lyrics are a unique and inspired reflection of Jewish stories, thoughts and values throughout history from the time of the First Temple through the 21st Century. Together, the music and lyrics bring light into the world by reaching into the hearts and souls listeners. As the Jewish people have traveled, settled and flourished throughout the world and still retain their unity as one people, so do the various musical compositions in Third House Rising bring the sounds of the world together as one. Lawrence's signature blend of music comprised of Middle Eastern, R & B, Pop, Latin and World Rhythms is neatly sewn throughout the tapestry of Third House Rising."
Geoff Berner releases "The Wedding Dance of the Widow Bride" available through Jericho Beach.
" 'I want to drag klezmer music kicking and screaming back into the bars.' That's the goal of Vancouver singer-songwriter-accordion player Geoff Berner... "I want to make original klezmer music that's drunk, dirty, political and passionate. As a Jew of eastern european descent, I feel I have a calling to make this music live, not just preserve it under glass like something in a museum." Geoff has undertaken numerous international tours, festival appearances, airplay on national radio, and opening slots on tour with artists such as Billy Bragg, Corb Lund, Po' Girl, Kaizers Orchestra, Carolyn Mark and the Be Good Tanyas (who covered his song 'Light Enough to Travel'). He's garnered critical acclaim and a cult following for his sharp songwriting and cabaret performance style, especially in Canada, England and Scandinavia."
8th Day releases "Brooklyn" available through CDBaby.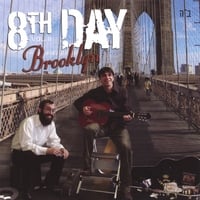 "New blend of Chassidic rock, blues and klezmer. The latest from the hottest sound in Jewish Music. From the shtetl to modern day "Brooklyn", this is a journey you will not soon forget"
I've got 8th Day's previous album and am pretty fond of it. I'm looking forward to checking this one out. You can catch a
Nachum Segal of 'JM in the AM' interview with band
and
a video of their CD release party
.
Itzhak Perlman releases "A Jewish Violin - The Best of Klezmer & Traditional Jewish Music" available through CDBaby.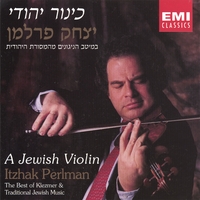 "Itzhak Perlman performs classic Jewish melodies on this imported CD with some of the greatest Klezmer bands in the world as well as the Israel Philharmnic Orch. his imported CD, available in limited quantities, consists of selections from various albums Itzhak Perlman has recorded of Jewish music, ranging from traditional Yiddish tunes, to Klezmer, and the Classics. In this compilation, Perlman is joined on various selections by The Klezmatics, The Brave Old World, The Andy Statman Klezmer Orchestra, The Israeli Philharmonic Orchestra,and pianist Janet Goodman Guggenheim. Included in this collection, are two selections Perlman performed in the film, "Schindler's List" with John Willimans conducting. This exceptional album has never been released in the USA."
It's 1 AM North Coast Time and I need to give it a rest. I'm aware of at least 10 more albums that I should be listing, including 'The ZAMIR CHORALE OF BOSTON: Psalmsensation', 'AHAVA: By the Power of You: Inspirations', 'UZI ESSNER: Voices of The Bible,' 'SHEVET ACHIM FAMILY ENSEMBLE: Jewish Family Ensemble-Neshama Yeteira', as well as new albums from Michoel Pruzanskys, Akiva Margaliot, Yishay Lapidot, Sam Glasers, and The New Project Relax Sampler. Whew. Sorry to anyone I've missed. Send me an email and I'll make sure I get you in the next round.