Klezmer music is one of those musical forms (the good ones) that both inspire and defy definition. I have some tounge-in-cheek definitions of my own...
I've been wanting to get that written down for a while. I'm sure that my friends in the klezmer community will take issue with this and with good reason. Categories are always limiting, often wrong and best are marginally helpful. But they can be helpful. And I needed a bit of help today.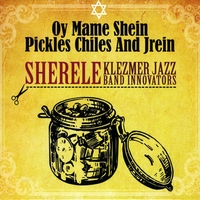 The Sherele Jazz Band Innovators is one of my favorite contemporary klezmer bands, well grounded in the tradition but also well planted in their place (Mexico) and time (now). A fine woody clarinet over tockity drums, acoustic and electric guitars, and bass. Wailing and soulful, jangly and full of life. Their recent album, "
Oy Mame Shein -Pickles, Chiles and Jrein"
is great fun. And, of course, my categories both help and hurt my ability to describe them. Definately not a shtetle band. They've got the jazz feel of a late-revival band but happily weave in elements of (Mexican) roots and post-klezmer. The guitar playing was particularly fascinating, sometimes a Spanish, almost flamenco, style acoustic guitar sometimes a cutting electric guitar. All in all a lovely blend.
Here...give'em a listen.
Sherele has gotten a bump in popularity late through their inclusion on the new Putumayo sampler cd "
Jazz around the World.
"For a band who's self description is
"
Like a happy Rabi waking up in a Moldavian shtetl, dancing love letters in Buenos Aires, eating tacos in Guadalajara (3 a.m. after mariachi and tequila) and head banging to your grandmother's music in 50 plus minutes of Latin American Klezmer extravaganza"
a world music album is natural home.

You can get more info on Sherele at the Myspace page, their CD Baby page, and their Facebook fan page.