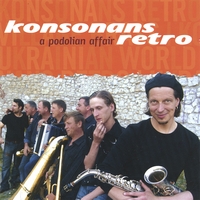 Socalled calls them "the funkiest, freshest, most rooted and rocking klezzified sounds of the new millennium." Whew. I get breathless even typing that. But he isn't wrong. Konsonans Retro is a pretty amazing family klezmer / brass band from Ukraine. I picked up their recent album
A Podolian Affair
recently and was blown away. Love that funky, rapid-fire horn section and the surprisingly strong male harmony singing. And Christian Dawid's clarinet is wonderful. Here's their official blurb...
"Konsonans Retro are a pretty old wedding brass band from Odessa region, Ukraine, and possibly the coolest and freshest new world music act to come out of Eastern Europe. For generations - and through countless hot nights - the Baranovsky family and their in-laws have been passionately playing the wild and sweet wedding music of Podolia, a powerful and soul-stirring blend of Moldavian, Ukrainian and unique Jewish tunes. And they sing - everywhere they are. That you have to hear for yourself…

Somewhere in 2005, the band met Berlin-based master clarinetist Christian Dawid (some think it was in Vienna). Soon plans were made – since then, the new Konsonans Retro have been performing for thousands of listeners at the Krakow Festival of Jewish Culture, at Vienna's excellent Klezmore festival and have been touring through Germany, Switzerland and Ukraine. "
Here are the guys playing on a street (my favorite venue) outside the port of Odessa. Check 'em out. You can learn more about them at
their website
or grab their album
CD Baby
.
Konsonans Retro plays at port of Odessa
Here's an extra special bonus, on drums ... their mom! I said this was a family band, right? Well, they learned their rhythm at home. Here's what the guys say...
"Kodyma, Ukraine: Maria Parfenivna Baranovska, mother of the Baranovsky brothers of Konsonans Retro fame, has been drumming all her life. In November 2008, she joined her sons Vitaly (trombone), Vasily (trumpet) and Volodymyr (accordion) to document some of the family repertoire from her native Zagnitkiv..."
Just wonderful.
Hattip to Dumneazu of the
Dumneazu
blog for posting the Konsanos Retro video and to
boys in the band
for posting the video of their mom.