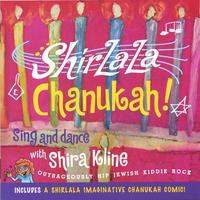 I grew up on
The Cure
and
R.E.M.
I wear black turtle necks and
Vans
sneakers to work. I have a goatee (mostly because I secretly want to be
Vincent Price
). While I don't kid myself that I'm actually hip anymore, I can tell you for a fact that the most un-hip thing you can possibly do is write "outrageously hip" on the record jacket of a children's album.
But that's ok. Hipness aside, Shira Kline's ShirLaLa Chanukah is the best kids album I've heard in a while. Easily the best I've reviewed since my previous obsession with
Oy Baby
. It bumps and jumps, swept along by Kline's mischievous voice and upbeat guitar work and buoyed by
Josh Nelson
's warm and cheerful production. (See
my review of Nelson's recent album "Lift
"). The album, hip or not, captures the contemporary Jewish para-liturgical musical zeitgeist perfectly. Centered on poppy folk guitar with some rock and roll flourishes and pop vocal melodies, it mixes in
Ashkenazi
,
Sephardic
, and
Mizrahi
tunes to create a full Diaspora Jewish sound. (The cover advertised hip-hop, too. While the one hip-hopish number won't give
Y-Love
a run for his money, it wasn't embarrassing the way many such attempts are. Just some fun folk melodies sung over a stuttery electronica dance rhythms that turn into a mixed-up round at the end.)
The big test for any kids album, though, isn't whether it works for a late-30-something ex-hipster. It's whether it works for kids. So in the tradition of empirical science (I'm a research scientist by day) I did an experiment. I set up some favorable circumstances; me, my two little scholars (age 4 and 6), and their Grandfather stuck in my wife's car while she and her mother went shopping in Target for an hour. Boredom central. Would this disk save the day? Or would we be popping it out in favor of current favorites High School Musical 2 or Hannah Montana 2?
The results….
We have a winner. And let me tell you, my girls are two tough little critics. They hear lots of music, both Jewish and secular. This was a hit from first bumps of Klein's Chanukah redo of "La Bamba" all the way through the closing Chanukah prayers. My elder scholar was delighted that she knew the melodies to a number of the classics ("Oh Chanukah," "Sevivon Sov Sov," "This Little Light of Mine") but picked up the new ones quickly. (There was lots of showing off in front of Grandpa to do.) My littlest scholar, despite not knowing as many of the lyrics or melodies loved it just as much, gravitating to the more bumpity call and response songs like the "Macabees March" and "I am Antiochous." In the days since that first hearing the album has been in heavy rotation, much to the chagrin of my wife. She has been cast by the girls in the role of Anitiochus to whom they loudly sing "What do we say! We Say NAY! You'll not be the boss of ME!"
Here are a couple of samples from the album. Check 'em out.
Sivivon Sov Sov Sov
I am Antiochous
Another joy of this album is the liner. The lyrics for each song are listed in the original language (English, Hebrew, Judeo-Spanish, and Yiddish) along with both English translations and transliterations. Perfect for when Al Hanisim defeats my limited ability to translate Hebrew and my way too smart 1st grader isn't putting up with vague answers such as "It's, umm, about Chanukah? And, umm, about one of the miracles?" The one thing that kids enjoyed that I just didn't was the Chanukah comic in the liner. In addition to some unprofessional scanning and anti-aliasing problems, Mor Erlich's drawings of Judah Macabee gave him poofy hair and a pale blue tunic / hair-band combo that look like
Olivia Newton John
on the set of
Xanadu
. Now, I don't need my Macabees to be GI Joe buff, but c'mon….
For more information, and to order a copy, visit the
ShiraLaLa website
or
CD Baby
. This one is highly recommended.