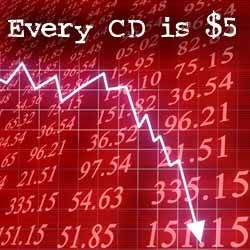 I don't do a lot of advertising but I thought I'd pass this one along... From Craig n' Co
"Even if the markets are down...we've found a way to lift your spirits! This week only, every CD is $5!"
Craig 'n Co
"produces award winning Jewish and Children's music as well as live concert events around the country."
They've got a pretty interesting assortment of CD's including Craig Taubman's own discs (Friday Night Live is my favorite), Shira Klein and Todd Herzog's latest recordings, a range of great sampler discs including Celebrate Yiddish and Celebrate Passover, the Hanukkah Lounge and Hanukkah Live! discs, My Jewish Discover and My Newish Jewish Discovery (my kids favorite),
and lots more
. For 5 bucks, you can stock up.