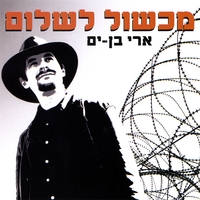 There is room for every woman, man and child of Jewish blood
But the doors are barred and bolted, and the hatches welded shut"
(from Ari Ben-Yam's "Oslo Train")
Ok. This is my third in a series of posts about different Jewish musical voices in debate about how to resolve the Israeli / Palestinian issue. The song is "Oslo Train" by Israeli singer-songwriter Ari Ben Yam. Ben Yam is a Russian-born Israeli Jew who "writes and sings poignant songs in Hebrew and English dealing with the corruption and loss of values that plague Israel and the Jewish people." Oslo Train expresses a palpable fear of the Oslo peace process and the loss of self-determination that came with it. It's hard to miss the Holocaust references in the image of Jews on a train with welded doors. It's a visceral image of powerlessness.
Some will say it lost its airbrakes, or the engineer's gone mad,
But this train was right on schedule every run it ever had.

Far from
Sheva's hopeful Salaam
, Ben-Yam pointed asks his listeners what they will do to resist the "long black train." In doing so, "Oslo Train" draws on a long line of American folk protest songs and reminds me a lot Pete Seeger and Woody Guthrie. That said, I can't honestly think of a song where either encouraged their listeners to
"Face the guards in black attire with your teeth and fingernails."
That's a level of active rebellion that is a bit violent for the mid-century American folkies, but absolutely part of the English and American folk tradition (to hear some examples grab a copy of the wonderful Chumbawamba recording "English Rebel Songs 1381-1984" which includes
"Cutty Wren"
).
"Will you dare to wreck the engine, throw your body on the rails,
Face the guards in black attire with your teeth and fingernails?
Or perhaps you'll shrug your shoulders and just do the things you do,
Keep on livin' and believin' that the train won't come for YOU?"

You can find out more about Ben Yam through his
MySpace page
, and his interview with
Ben Bresky on Israel National Radio's The Beat
. His 2007 record Obstacle to Peace is available through
CDBaby
.
Ari Ben Yam - Oslo Train- Israeli protest song
Hat Tip to
Israel National Radio
for posting the video to YouTube.