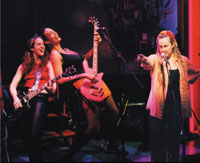 BETTY Rules!
BETTY is a a five-piece pop rock band fronted by Elizabeth Ziff, Alyson Palmer and Amy Ziff (L to R in the photo below) I haven't seen them play yet and I am, as we speak, missing their performance at Ann Arbor's
Ark theater
.
BETTY isn't specifically a Jewish band, though from the major Jewish bling that Elizabeth is sporting in the photo I'm guessing the sisters Ziff are Jewish. BETTY has been playing together for 20 years or so, and has recently put together an Off-Broadway stage show called BETTY Rules! which tells the story of, brace yourself, a "feisty punk-pop-alternative-rock trio formed 20 years ago in the basement of the Ziff family manse." Autobiography is a beautiful thing. Adding a bit more Jewish cred, BETTY Rules! was in residence at the Theater J (at the Washington DC JCC) for a while. They're getting great reviews and racking up the tour miles.
Here's what BETTY has to say for themselves...
"Bonded since an unfortunate incarceration, BETTY began as an edgy a'cappella/spoken word/techno-beat trio in Washington DC. Fierce Elizabeth (vocals, guitar), funky Alyson (vocals, bass) and funny Amy (vocals, cello) are the songwriters, while virtuoso guitarist Tony Salvatore and sizzling drummer Mino Gori complete the band, now based in downtown NYC. Activist entertainers, the band is known for fighting fiercely for what they believe: equal rights, feminism, finding cures for breast cancer and AIDS, Planned Parenthood, the Pro-Choice movement, an end to sexual violence and everybody's inalienable right to safely dance naked in the streets."
Anyway, I loved the photo and thought the tracks on their website were a hoot, so I figured I'd share.
If theatrical "feisty punk-pop-alternative-rock" makes you smile, check out
their website
and the
BETTY rules site
for more tracks, their gig schedule, and their 5 or so albums.