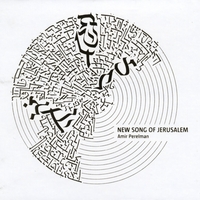 What is there to say about Jerusalem that hasn't been said, loudly, with banners and guns, wailing prayers and chants, in streets, assembly halls, on television and the radio. A city as much disected as divided. What is there to say?
A lot, it turns out. And words aren't necessary.
Amer Perelman's New Song for Jerusalem opens to emptiness. A rolling, moaning, emptiness in desert colors. Long tones roll and toll from a distance. The tracks progress, plucked instruments and rattled ones make small noises of quite contemplation. Emptiness can be beautiful, we are reminded, and does not need to be bleak. Small moments of life are just as rich as larger gestures. There is a dream embedded in these rhythms, a quiet prayer, a coming to life. That emptiness can fill with complimentary dissonances and life can form.
The beauty of this album, and it is beautiful, is the gentle interweavings that fill it. Violins and hand held percussion, oud's and guitar, at once primitive and sophisticated. The understated rhythms and melody fragments pull at each other. bu bu bum bum tick tock tick tock tick. What is Jerusalem? Fragments pulling at each other, but from the complementary dissonances comes life.
Perelman, according to his bio, was
"[b]orn in Israel in 1967
...
During his formatory years Amir was exposed to different and varied musical influences such as Jazz, Rock, Latin, Indian, Armeniam and Mediterenean musical heritage that are reflected in his work, by fusing rythms and scales from east and west , he has created his own personal sound and style."
You can hear those influences, synthesized and unified, clearly. At moments Arabic sounds dominate, at other time, such as the song 'F drop,' Perelman seems to be drawing on
American Primative
guitar original
John Fahey
.
To hear samples for Perelman's New Song of Jerusalem and buy a copy (you should), visit his
CD Baby page
or his
MySpace
page. For the moment, here's Perelman's New Song of Jerusalem Quintent playing "Barchuni." While not an album track, it gives you a feel for what the album is about.
Hat tip to YouTube user
abperi
for posting the video.