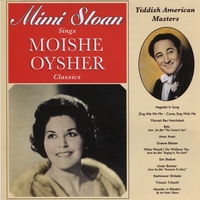 The horns blast, staccato and brassy, over a hammering tambourine rhythm. The signer lets loose a long wail, melodic and a bit unhinged. Is this a bimah or a bull fight? aaaaaAHHHHHH! aaaaaAHHHHH! Hebrew cantorial skat, her voice wriggling and bucking, changing tone and tempo on every mesure. Every bar raises the stakes; switch keys, drop an octave and growl, jump back up and let loose with a trill to shatter glass and hearts. SHALOM! Shalomashaloomashaloom! AAAAAHHHHHH! Instrumentals cut out and she cuts loose like everything else was just the warm up. My nervous system is shot. I'm sweating. I've never heard anything like it.
And if you haven't heard Mimi Sloan sing
Moyshe Oysher's
"Amar Amar", then you haven't either. Listen, and don't forget to breath…
Mimi Sloan "Amar Amar"

Mimi Sloan was one of the Feder Sisters. Along with her sister Sylvia they were hardworking second stringers playing night clubs and Catskill resorts and singing on Yiddish Radio. Amazing voices but no big hits like the Barry Sisters had. There were a few recordings, including the albums "Yiddish Maestro" and "Some Like It Yiddish" and singles like "Gets Mir A Yingele." Want a copy? You've got some hunting to do.
But they've made an impact. In particular, Mimi's (mostly) solo album "Mimi Sloan Sings Moishe Oysher Classics : Yiddish & Cantorial" has been remembered. In it, Sloan gives a ferocious performance of Oyser material. Last week I wrote about the British group
GhettoPlotz
and their haywire DJ driven klezmer flavored dance mixes. Their track Chassidic Torpedo lays down a slick contemporary grove over the bouncing-ball-in-a-blender "chiriribim" of Mimi and Slyvia's version of Oysher's "Hassidic in America." I love the GhettoPlotz deconstruction and reformulation, but it's the absolute fearlessness of the Feders that steal the show.
Here's the Feder's "Hassidic In America".
Mimi and Sylvia Sloan "Hassidic in America"
Now go hear the
GhettoPlotz remix - Chassidic Torpedo
.
The great thing is that "Mimi Sloan Sings Moishe Oysher Classics : Yiddish & Cantorial" is available again. It is was reprinted by Hatikvah Records and can be ordered right now from
CD Baby
and will be available soon through the
Hatikvah Records website
. Don't let the dated horn arrangements fool you, this album is as fresh and as radical as anything released and should be on every Jewish music fan's Hanukkah wish list.