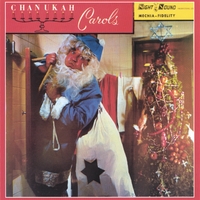 Whew. The recent midwest ice storm knocked out my home internet connection for the last two days. I couldn't work on my blog, my wife couldn't check the weather/school closings lists, my elder wiggler couldn't play her new Jumpstart World: Kindergarten computer game, and my little wiggler couldn't monopolize Mommy and Poppy while elder wiggler was playing Jumpstart World. We were all in a fine state. Tempers flared. But, we're connected again and all should be well.
One thing that Poppy (yours truly) did to while away the unconnected time was listen to
JMG's
rerelease of the classic Chanukah parody album "Chanukah Carols." Written by comic actor
Stanely Adams
and songwriter
Sid Wayne
, Carols is a slice of late 1950's Jewish culture and assimilation anxiety. Adams and Wayne sing and tell stories about Chanukah using a mishmash of yiddish quips and Christmas icons. It was pretty funny then and it's pretty funny now, though, then and now, it has a slighly bitter, self-mocking edge. Christmas may be silly, the album seems to say, but aren't we silly for not celebrating it too? It's frustrating that 50 years later, listening to the album reminds me that this anxiety hasn't lessened. I just had to explain to my neighbors and elder wigglers elementary school teachers (whom I'm very fond of) that Chanukah shouldn't be part of the school's "Christmas Around the World" program because Chanukah isn't how Jews celebrate Christmas. (It's how we celebrate Chanukah) This seemed to be a stunner for some of them. Sigh.
Anyway, this is a great funny album that
the Jewish Music Group
brought back into print. Thanks folks.
You can hear clips from the album and buy a copy through
the JMG website
,
CD Baby,
and
Amazon,
or your favorite music store.