This list is compiled from announcements on a variety of Jewish Music mailing lists, blogs, online retailer catalogs, and emails from the artists. Thanks to all of them. If I've missed your recording, sorry. Please drop me an email and I'll make sure it gets in the next list. For more 2007 album releases see the September, June part 1, June part 2, and April lists.
Budowitz releases "Budowitz Live", available through CD Baby.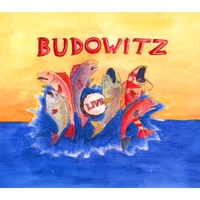 "Budowitz is the groundbreaking traditional ensemble of klezmer music. Since its founding in 1995, Budowitz has also served as one of Europe's main training grounds for traditional Jewish music, featuring over 20 musicians in its performances and recordings, including the late Jewish cultural icons, Cili Schwartz and Majer Bogdanski. Their third CD has just been released in collaboration with Swiss National Radio, and their award-winning previous CDs are featured on all of the international compilation CD's of the best klezmer groups."
Michael Winograd releases "Bessarabian Hop"
"Those who know Michael Winograd from his favorite current project, "Infection," or even from his klezmer-jazz band, Khevre may not have noticed that he sounds so good as an innovator because he plays traditional klezmer so well. Now he's put together a CD of new music in traditional styles. Patrick Farrell - accordion, Daniel Blacksberg - trombone, Nick Cudahy - bass (text from Ari at the Klezmershack Blog)"
While I haven't heard Bessarabian Hop, Winograd's band
Khevre
is pretty fabulous. Khevre released their CD "Oyfn Sheydveg (at the crossroads)" via CDBaby, so if you're interested in Bessarabian Hop you should keep an eye on CDBaby or contact Winograd directly.
Alex Kontorovich releases "Deep Minor" via CD Baby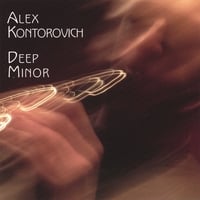 "Alex Kontorovich may be familiar to klezmerphiles from KlezKanada and KlezKamp, he plays frequently with Frank London and is a member of the Klez Dispensers. But the Russian émigré is also an accomplished post-bop reedman. This is uncompromisingly radical stuff, with Brandon Seabrook providing some very Oriental-sounding banjo and Kontorovich moving easily between romantic modal playing, some fractured klezmer, and high-energy shrieking. He's an imaginative, thoughtful improviser and this is a highly intelligent, fiery album." -- George Robinson, Jewish Week

"Deep Minor expands the concept of Radical Jewish Culture into the 21st Century." -- Troy Collins, AllAboutJazz-NY"
The Joel Rubin Ensemble release "Midnight Prayer", available through CD Roots
"Clarinetist Rubin has long been considered to be one of the leading performers of Jewish instrumental klezmer music in the world today, earning accolades from sources as diverse as klezmer giants Dave Tarras and Max Epstein, international clarinet soloist Richard Stoltzman, avant garde composer John Zorn, and Nobel Prize Laureate and poet Roald Hoffmann. The ensemble also features Hungarian cimbalom virtuoso Kálmán Balogh, Italian accordion wizard Claudio Jacomucci and rising klezmer star violinist David Chernyavsky, as well as Ferenc Kovács (trumpet), Csaba Novák (bass), Sándor Budai (second violin) and Pete Rushefsky (tsimbl).

Midnight Prayer brings together two diverse, yet partially overlapping repertoires: the instrumental music of the klezmorim -- the professional Jewish instrumentalists who graced every traditional Jewish wedding in Eastern Europe from at least the 16th century onwards -- and the mystical nigunim (religious melodies of spiritual elevation) of the hasidic movement. Recorded in four magical days at the Operetta House in Budapest, Hungary, Midnight Prayer creates its own sonic universe, full of depth, virtuosity, playfulness and introspection"
David Buchbinder releases "Odessa/Havana" via Tzadik - Radical Jewish Culture
"Trumpeter, composer, long-time leader of the Flying Bulgar Klezmer Band and founder of the famed Ashkenaz festival of New Yiddish Culture teams with award winning pianist/composer Hilario Duran to explore the exciting nexus of Cuban/Klezmer fusion. Inspired by the Jewish mambo craze of the 1950's, the music here moves from Bulgar to Bembé, Sher to Son Montuno, Hora to Habanero. A brilliant blend of two cultures, this is an exciting release by a band that will appeal to fans of latin, jazz and Jewish music alike."
Dan Kaufman releases "Force of Light" via Tzadik - Radical Jewish Culture
" Dan Kaufman, the mastermind of the popular and eclectic band Barbez tackles Radical Jewish Culture with a brilliant interpretation of the life and work of enigmatic Jewish poet Paul Celan. Born in Romania, Celan chose to write exclusively in German after losing his entire family to the Holocaust. Combining words to create new compounds packed with imagery and meaning in an attempt to almost remake the German language, his poetry is now recognized as some of the greatest writing of the 20th century. Kaufman responds to Celan with a sharp mind and a keen ear for harmony, lyricism and unusual sounds."
La Mar Enfortuna releases "Conviviencia" via Tzadik - Radical Jewish Culture
"Featuring the velvety vocals of Jennifer Charles and the imaginative arrangements of Oren Bloedow, the cutting edge downtown band Elysian Fields is an original blend of pop, funk and rock. Their first Tzadik CD, La Mar Enfortuna is a sensuous and lyrical interpretation of traditional Sephardic melodies and is one of the best selling cds in the Tzadik catalog. This is the long awaited follow up and features Oren and Jennifer along with some of the best young players out of the downtown scene"
Hazzan Daniel Halfon releases "Kamti Lehallel (I Rise in Praise) - The Musical Tradition of the Spanish and Portuguese Jewish Communities of Amsterdam, London and New York" via Beth Hatefutsoth (The Nahum Goldmann Museum of the Jewish Diaspora)
"The Kamti Lehallel double-CD album introduces the musical tradition of the Spanish and Portuguese Jewish communities of Amsterdam, London and New York. It is accompanied by a 200-page booklet in English and Hebrew, which includes essays on the communities and their music and biographies of the composers and the performers. All prayer and song texts are presented along with translations and detailed explanations. The Hebrew texts were photographed from prayer books dating from the seventeenth through the nineteenth centuries."
Tapuach B'dvash And Marina Yakubovich release "From Grey To Blue With Itzik Manger" via CD Baby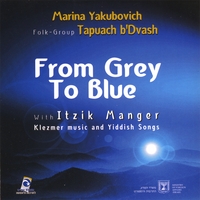 "Israeli folk-group Tapuach b'Dvash (Apple in Honey) was created in 2002.It is comprised of musicians from Ukraine and Russia, that immigreted to Israel in different time: Pavel Levin (violin), Aleksey Egorov (contrabass-balalaika, tuba),Timur Saitov (guitar), Ira Goyfeld (clarinet) , Anatoly Geyko(the music leader, arrangement's writer, accordion, ethnic wind and percussion instruments). Tapuach b'Dvash presents Jewish music from all parts of the world where Jewish culture has existed and mixes various musical influences. A specialty of the band is authentic sounds and using of interesting ethnic instruments, including kaval, nei, Russian spoons, and darbuka."
Dahlia Topolosky releases Kol Nearim" via CDBaby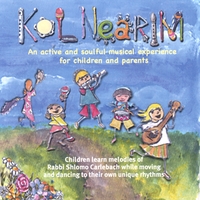 "An active and soulful musical experience for children and parents where children learn the traditional Jewish melodies of Rabbi Shlomo Carlebach while moving and dancing to their own unique rhythms. Dahlia was greatly inspired by the music and teachings of Rabbi Shlomo Carlebach, who used his soul music to teach, inspire, and bring all people together. In college and after, Dahlia started to perform for women and have concerts/sing-alongs where she would share jewish mystical teachings and sing many melodies of Rabbi Shlomo Carlebach, as well as other Jewish soul music. "
Dahlia sent me the CD and it's a joy. My littlest one likes to dance around to it and I dig the niggun-style guitar playing.
Ensemble Lucidarium releases "La Istoria de Purim: Musique et poésie des Juifs en Italie à la Renaissance" available through Cd-Baroque.com.
"Gloria Moretti : chant; Viva Biancaluna Biffi : chant, viola d'arco; Enrico Fink : chant, récitation; Avery Gosfield : flûte à bec, flûte et tambour; Marco Ferrari : flûte à bec, douçaine, chalemie, flûte double; Francis Biggi : viola da mano, viola da penna, cetra, colascione; Elisabetta Benfenati : guitare renaissance; Massimiliano Dragoni : dulcimelo, percussion; Federico Marincola : luth basse, chitarra battente"
The TRIO ELEONORE releases "TRIO ELEONORE"
"Anat KOLODNY, clarinette; Mi-Kyung KIM, violoncelle; and Ivani VENTURIERI, piano play the music of Max Bruch, Paul Joun, and Joachim Stutschewsky"
Sorry, not sure how to order this one. If you're French is decent, you may find ordering info on their website.
Chaim Dovid, Aaron Razel, and Shlomo Katz releases "K'Shoshana", Available through Sameach Music.
"With the release of his second album, K'Shoshana, MO is proving himself a force to be reckoned with in the Jewish Music industry. I'd plug this album for no other reason than to support a fellow blogger in his attempts to bring integrity and soul back into an industry that seems derailed by shmaltzy/ cheesy/ glitzy/ computer-processed/ homogenized/70's Cop Show/disco/boy-band blandness.

But it helps that this happens to be a really good album, featuring two of my favorite people in the world, Aron Razel and Shlomo Katz (I'm not dissing Chaim Dovid; I've never had the privilege to play with him). Razel's arrangements of 10 of Reb Shlomo Carlebach's previously unreleased songs are clean and pleasing to the ears, and although Razel's usual ingenuity is somewhat subdued to avoid overshadowing Carlebach's material, it is still eminently present. Also present is the spirit of the late Reb Shlomo, A"H, whose legacy has been passed on to these three great performers." PsychoToddler
Yood releases "Passin' Over", Available through CD Baby.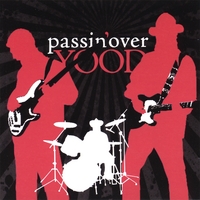 "YOOD, the smallest letter in the Hebrew alphabet, is the new name for great, big sound. Three guys originally from North America, for the last decade playing backup to the giants on the Israeli scene, take virtuosity to new levels on their debut album, Passin'over, which has the kind of soulful, soaring guitar riffs you feel before you hear. Drawing inspiration from Hendrix, Cream and Dylan, this professionally trained classic rock trio performs original music and lyrics along with classic covers."
Yitzy Spinner releases "You and I", Available through Sameach.
"His professional singing career began when he became the Miami Boys Choir's youngest member when he was only 8 years old. He was immediately elevated to the status of soloist and remained there until he left the choir 5 years later. In total, he has appeared on over 15 albums in collaborations with other performers. He has performed live in concert with many of Jewish music's most requested artists and has had the privilege of performing all over the United States, Canada, and Israel, as well as in Belgium, Holland, and England."
You can
check out a sampler from "You and I"
courtesy of the
Sameach Music Podcast
.
The Red Hot Chachkas releases "Spice It Up", Available through their website.
"This is just a fun, traditional American klezmer album to listen to. ...From the ground up with the varied and solid percussion of Michael Arrow and Breck Diebel on bass, the band just shines. Listen to this and realize that the Red Hot Chachkas are burning up the airwaves. Time to listen in." KlezmerShack
The Zamir Chorale of Boston releases "Psalmsensation: a muticultural concert experience", Available through CD Baby.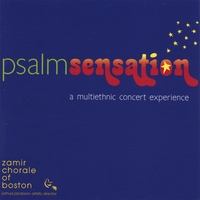 "Zamir and guest vocalists and instrumentalists have created an unparalleled journey through the sounds and rhythms of the Book of Psalms that captures the spirit and energy of our June 2006 program. Enjoy the diversity of these extraordinary settings from Israel, France, the U.S., Morocco, Syria, Turkey, Italy, and Brazil, and featuring a medley from African-American gospel traditions."
Lucette van den Berg releases "Friling", Available through her website.
"Van den Berg has an extraordinary, warm and expressive voice and she is passionate about Yiddish music. Lucette van den Berg was educated as a singer at Zwolle Conservatory. After she graduated she was taught by Cora Canne Meyer and Kevin Smith. At Weimar, Germany, she took masterclasses in Yiddish song with Adrienne Cooper and Michael Alpert (Brave Old World). It was there that she met the well-known Yiddish author and composer Beyle Schaechter-Gottesman."
Voices of The Bible releases "The Bible Voice", Available through CD Baby.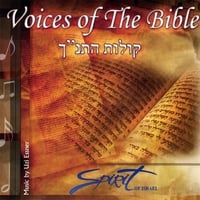 "14 songs tell biblical stories you know and love, breathing life into their characters through the voices of respected American and Israeli musical artists. Sung in English and Hebrew, these songs celebrate the shared roots of Judaism and Christianity."
Shevet Achim Family Ensemble releases "Jewish Family Ensemble-Neshama Yeteira", Available through CD Baby.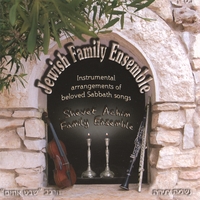 "Ancient and timeless, these beloved Sabbath melodies are magnificently presented by the Kohn siblings of Israel on flute, violin, clarinet and piano, creating a spirited and stirring experience; 75 minutes of superbly arranged and performed Jewish music."